oil adsorbent
Product introduction
Kakui Oilsolver®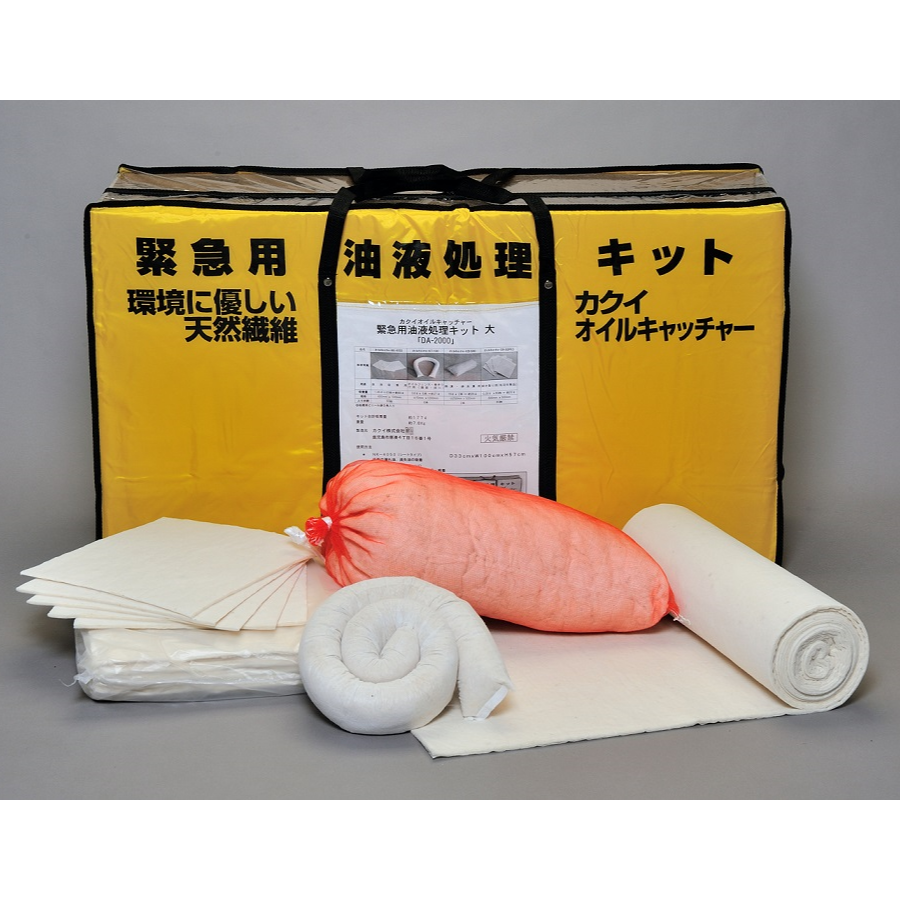 Kakui Oilsolver®Emergency Oil and Liquid Disposal Kit Big
-Prepare for various disasters and accidents-
Features of Emergency Oil and Liquid Disposal Kit Big
Quickly respond to oil spills in factories and buildings for various disasters!
As an emergency response product of ISO14001 for various disasters!
A large-capacity oil suction kit that can respond to major accidents for various disasters
Because it is a natural fiber, the quality is difficult to change after long-term storage
There are 4 types of oil-absorbing cotton, which can cope with changes in various occasions
Supplements
A kit using environmentally friendly natural fibers (patented products).
Compared with PP products, the adsorption capacity is about 3 times.
ISO9001acquired
Usage
Installed on tank trucks and ships
As safety measures for gas stations and factories
As a safety countermeasure product for oil tank factories, etc.
Usage
Various factories, reserve bases, refineries, gas stations
Vehicles, ships equipped with, ISO certification, emergency reserve
Kit product content
NK-4050
usage
For oil adsorption
Adsorbing capacity
1.46L×60sheets=87.6L
specification
400×500×4(mm)
Number of sheets per box
60 sheets
SB-30PRO
usage
For oil absorption and wiping
Adsorbing capacity
0.6L×50sheets=30L
specification
300×300(mm)
Number of sheets per box
50 sheets
KB-500
usage
For drainage ditch
Adsorbing capacity
18L×2tube=36L
specification
diameter 250×500(mm)
Number of sheets per box
2 tube
KT-100
usage
For oil fence
Adsorbing capacity
3.6L×6tube=21.6L
specification
diameter 70×1200(mm)
Number of sheets per box
diameter 70×1200(mm)
| | Emergency Oil and Liquid Disposal Kit Big |
| --- | --- |
| usage | ISO14001 compliant products and spare parts for oil spill accidents |
| Geometry | 4 items |
| specification | kit |
| size(cm) | (Width)33×(Length)100×(Thickness)57 |
| wight | about 7.8kg |
| Adsorbing capacity per sheet (L) | about 175.2L |
---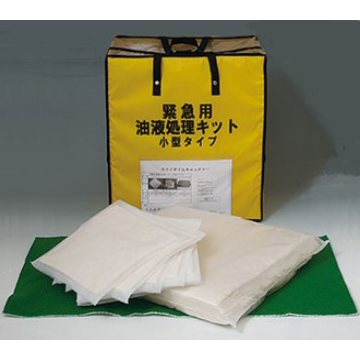 Kakui Oilsolver®Emergency Oil and Liquid Disposal Kit Small
-Prepare for various disasters and accidents-
Features of Emergency Oil and Liquid Disposal Kit Small
Quickly respond to oil spills in factories and buildings for various disasters!
As an emergency response product of ISO14001 for various disasters!
Because it is a natural fiber, the quality is difficult to change after long-term storage
Various combinations of easy-to-use sheet products
ISO9001acquired
A kit using environmentally friendly natural fibers (patented products).
One sheet of K-50 and SB-30 has the adsorption power of about 3 sheets of PP products.
Does not absorb water to absorb oil and organic solvents.
This is a set of combination products containing three types of oil-absorbing cotton.
Usage
Installed on tank trucks and ships
As safety measures for gas stations and factories
As a safety countermeasure product for oil tank factories, etc
usage
Various factories, reserve bases, refineries, gas stations
Vehicles, ships equipped with, ISO certification, emergency reserve
Kit product content
NK-4050
usage
For oil adsorption
Adsorbing capacity
1.46L×36sheets=52.56L
specification
400×500×4(mm)
Number of sheets per box
36sheets
SB-30PRO
usage
For oil absorption and wiping
Adsorbing capacity
0.6L×30sheets=18L
specification
300×300(mm)
Number of sheets per box
30sheets
FM-5090
usage
Used on the floor
Adsorbing capacity
1.8L×3sheets=5.4L
specification
500×900(mm)
Number of sheets per box
3sheets
| | Emergency Oil and Liquid Disposal Kit Small |
| --- | --- |
| usage | ISO14001 compliant products and spare parts for oil spill accidents |
| Geometry | 3 items |
| specification | kit |
| size(cm) | (Width)33×(Length)50×(Thickness)55 |
| wight | about 4kg |
| Adsorbing capacity per sheet (L) | about 77.4L |
---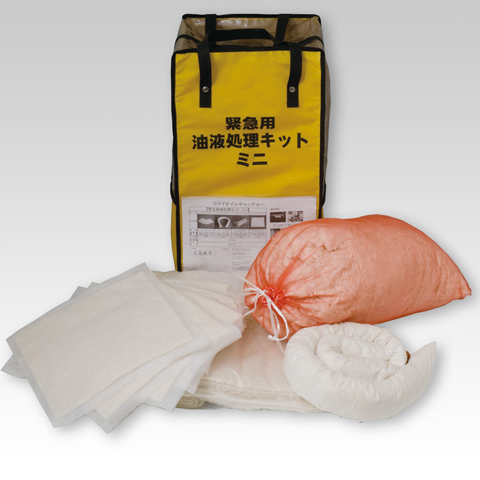 Kakui Oilsolver®Emergency Oil and Liquid Disposal Kit Mini
-Prepare for various disasters and accidents-
Features of Emergency Oil and Liquid Disposal Kit Mini
Leakage accidents at the construction site and during handling
Easy-to-carry size, can be handled immediately in emergency
Because it is a natural fiber, the quality is difficult to change after long-term storage
Supplements
ISO9001acquired
Usage
Installed on tank trucks and ships
As safety measures for gas stations and factories
As a safety countermeasure product for oil tank factories, etc
usage
Various factories, reserve bases, refineries, gas stations
Vehicles, ships equipped with, ISO certification, emergency reserve
Kit product content
NK-4050
usage
For oil adsorption
Adsorbing capacity
1.46L×12sheets=17.5L
specification
400×500×4(mm)
Number of sheets per box
12sheets
SB-30PRO
usage
For oil absorption and wiping
Adsorbing capacity
0.6L×5sheets=3L
specification
300×300(mm)
Number of sheets per box
5sheets
KB-500
usage
For drainage ditch
Adsorbing capacity
18L×1tube=18L
specification
diameter 250×500(mm)
Number of sheets per box
1個
KT-100
usage
For oil fence
Adsorbing capacity
3.6L×2tube=7.2L
specification
diameter 70×1200(mm)
Number of sheets per box
2tube
| | Emergency Oil and Liquid Disposal Kit Mini |
| --- | --- |
| usage | Oil slick on water, road oil leakage, oil leakage adsorption: mineral oil, animal and vegetable oil |
| Geometry | 4 items |
| specification | kit |
| size(cm) | (Width)33×(Length)33×(Thickness)55 |
| wight | about 2.4kg |
| Adsorbing capacity per sheet (L) | about 46.2L |
---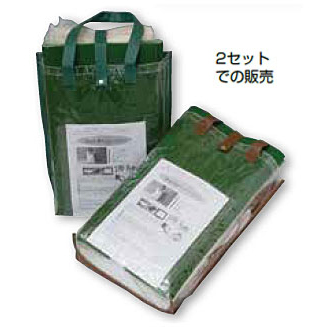 Kakui Oilsolver®Emergency Oil and Liquid Disposal Kit handy
-Prepare for various disasters and accidents-
Features of Emergency Oil and Liquid Disposal Kit handy
As an emergency response product of ISO14001 for various disasters!
Easy to load on the truck size
Because it is a natural fiber, the quality is difficult to change after long-term storage
Three kinds of oil-absorbing cotton can handle various outflows
ISO9001acquired
Usage
Installed on tank trucks and ships
As safety measures for gas stations and factories
As a safety countermeasure product for oil tank factories, etc
usage
Various factories, reserve bases, refineries, gas stations
Vehicles, ships equipped with, ISO certification, emergency reserve
Kit product content
NK-4050
usage
For oil adsorption
Adsorbing capacity
1.46L×12sheets=17.5L
specification
400×500×4(mm)
Number of sheets per box
12sheets
SB-30PRO
usage
For oil absorption and wiping
Adsorbing capacity
0.6L×5sheets=3L
specification
300×300(mm)
Number of sheets per box
5sheets
FM-5090
usage
Used on the floor
Adsorbing capacity
1.8L×1sheets=1.8L
specification
500×900(mm)
Number of sheets per box
1sheets
| | Emergency Oil and Liquid Disposal Kit Handy |
| --- | --- |
| usage | Oil slick on water, road oil leakage, oil leakage adsorption: mineral oil, animal and vegetable oil |
| Geometry | 3 items |
| specification | kit |
| size(cm) | (Width)33×(Length)33×(Thickness)54.5 |
| wight | about 2.4kg(2set) |
| Adsorbing capacity per sheet (L) | about 22.8L(2set) |
---