Kakui Oil Adsorbent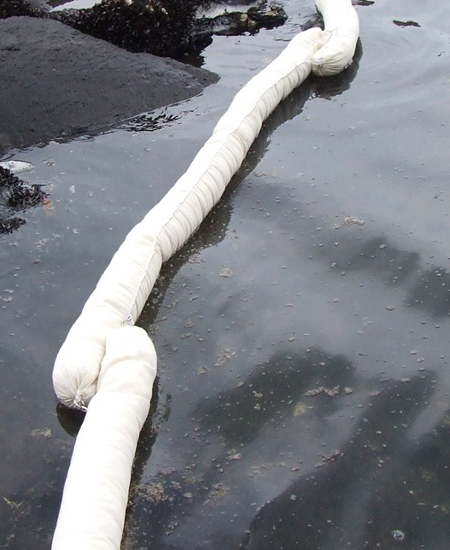 Oil Adsorbent
overwhelming adsorption and retentivity performance
Kakui Oilsolver®is a natural fiber, high performance oil adsorbent that was developed by KAKUI CO., LTD., a natural fiber manufacturer. It is intended to protect our beautiful nature, and adsorbs oils but does not absorb water. It adsorbs oils flowing out from e.g. seas, harbors, rivers, factories, restaurants and others.
Kakui Oilsolver®is kind to earth, which is made from plant-based natural fiber and generates far less CO2 causing global warming than synthetic fibers. It is a highly efficient oil adsorbent which adsorbs 30 g of oils per 1 g, meaning three times as large that of synthetic fibers.
Our Rroducts
---
Representative Example

Comparison of adsorbing capacities
General polypropylene-based product V Kakui Oilsolver®

---

①Here are trays containing water.Same amount of oils are poured into both trays.

---

②Then respective sheets are placed over the oil gently.

---

③As can be seen, Kakui Oilsolver®has adsorbed the oil completely.
Regrettably Product X has left some amount of oil behind.

---

④Oil adsorbed by Product X starts to leak little by little, whereas Kakui Oilsolver®still holds the oil firmly.

---

By type of oil (amount adsorbed per 1 g of product)
Measuring Method – Soak for 5 minutes in oil at 20-degrees Celsius (68 Fahrenheit), then left on metal mesh for 5 minutes.
Prescription in accordance with the performance testing criteria for oil adsorbents for the purpose of type approval by MLIT (MLIT: Ministry of Land Infrastructure, Transport and Tourism) ・・・ 6 g/g or more (Bunker B)
*Improper method of use or co-presence of any surfactant in water may lead to different results.

Usage Examples

Sea contamination

Kakui Oilsolver® can be thrown over contaminated sea surface surrounded by any oil fence. It can be used for adsorbing floating oils, and also as a supplementary oil fence.

*Treatment after adsorbing oils
When collecting, Kakui Oilsolver® should be picked up using some tools such as a stick with a hook at its end. After collection, they should be temporarily put in a plastic bag in order to prevent oil spillage. (Thereafter, they should be disposed of as wastes properly.)

Factory drainage water

Within an oil-water separation facility, Kakui Oilsolver® should be placed over liquid surface.Moreover, they can be used for adsorbing oil spillage around motors and machines, and when recharging tank trucks, etc.

Kitchen drainage water

When using for kitchen drainage water, Kakui Oilsolver®should be floated in the catchment and grease trap. It can also be used as a filter.

Precautions for handling

*Used sheets should be disposed of as industrial wastes.
*Depending on the properties of liquids to be adsorbed, care should be taken so as not to cause any injuries and hazards.
*Municipal rules on disposal should be followed.