Medical Supplies
Product introduction
Covering/Protection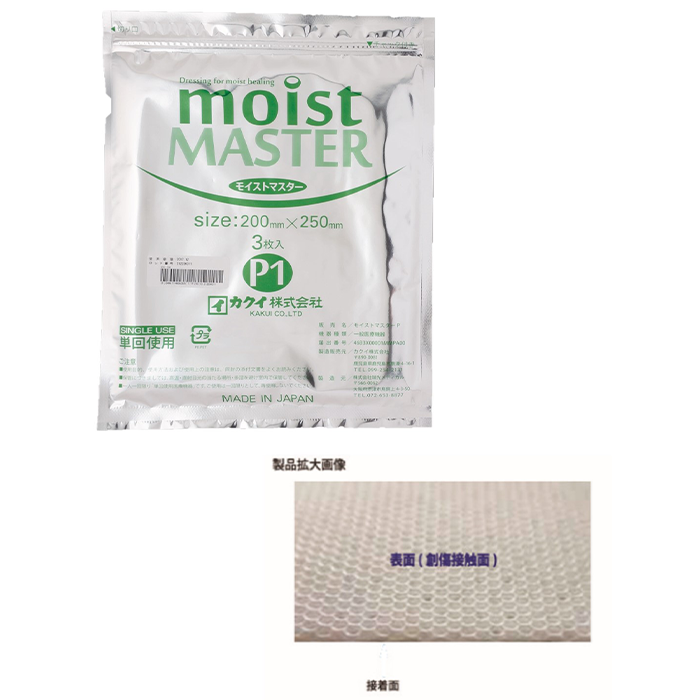 moist MASTER: Water-absorbent integrated type (V/TOP)
-Integrated dressing/ protection material with absorbent lamina and dew proofing lamina that does not easily stick onto wound site --moist MASTER: Water-absorbent integrated type (V/TOP)
Features of [moist MASTER] series
This product tenderly protects wounds by preventing wounds from drying and from adhering to this product due to formation of scab.
It does not easily adhere to wounds, so pain can be relieved when changing to new one.
The structure absorbs excessive exudates from wounds, preventing skin troubles such as becoming "stuffy", "wrinkly" and "rash" beyond wound site.
Thin and soft material fits to various skin geometries and does not exert compression on wound site.
Very economic as it can be cut freely as necessary according to shape/size of wound site.
Usage example
This product is effective for moist healing therapy.
Abrasions, skin damages, heat injuries, bedsores: Plastic surgery, Orthopedic
Suture wound accompanying crush wound, infectious impetigo, infantile eczema: Dermatologic, Pediatric
Contact dermatitis, zosteriform blister, PEG entrance, tracheostomy site, bin insertion site of external fixation device: Surgery, Orthopedic
(General medical device: Covering/protection for heat injury, Covering/protection for surgery)
| Product Code | Product name | Standard | Unit | Qty | JAN Code |
| --- | --- | --- | --- | --- | --- |
| 532801000 | most MASTER ーV | 200mm×250mm 10sheets | Packs | 10Packs | 4987714803348 |
---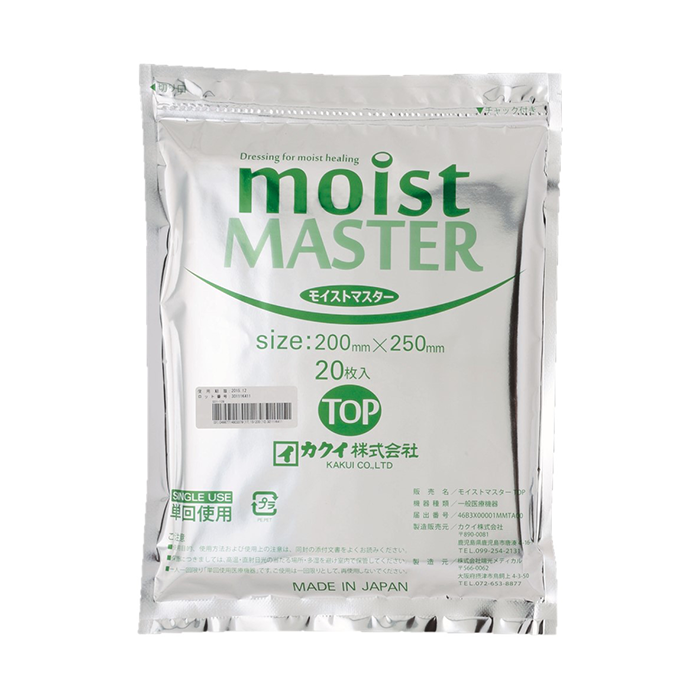 moist MASTER TOP
-Thin type that does not easily adhere to wound site; combining thin type & secondary dressing –
Features of moist MASTER TOP
moist MASTER TOP does not have absorbent structure (simplified structure), but instead uses secondary dressing material to respond to cases of less exudates and excessive exudates.
Substantial cost reduction was achieved.
Usage example
Examples of secondary dressing material
For less exudates: adhere directly to clothing
For excessive exudates: gauze-covered absorbent cotton, disposable diaper, etc.
(General medical device: Medical non-woven fabric)
| Product Code | Product name | Standard | Unit | Qty | JAN Code |
| --- | --- | --- | --- | --- | --- |
| 532804000 | moist MASTER TOP | 200mm×250mm 20sheets | Packs | 10Packs | 4987714803379 |
---
Medical Supplies
---